Calgary at
Edmonton
9:00 PM ET, April 10, 2009
Rexall Place, Edmonton, Alberta, Canada
Flames-Oilers Preview
ESPN.com/Stats LLC
The Calgary Flames missed a chance to secure their first Northwest Division title in four seasons. To clinch, they will attempt to take advantage of their provincial rival who will again miss the playoffs.
The Flames will also look for a more consistent effort as they finish the regular season with a home-and-home series against the Edmonton Oilers that begins Friday night at Rexall Place.
Vancouver's 1-0 win on Thursday over Los Angeles dropped Calgary (45-29-6) two points behind the Canucks in the Northwest and to fifth in the Western Conference. Vancouver has only Saturday's game against last-place Colorado remaining, and should the Canucks and Flames tie, Calgary holds the edge in victories.
However, Calgary couldn't win one of its most important games of the season Tuesday in Vancouver, getting only one of their 47 shots past Roberto Luongo in a 4-1 defeat. The Flames also failed on all six power-play chances, extending their drought to 0-for-36 over the last eight games.
Calgary also has been outscored 21-11 in dropping five of its last eight.
"Our power play needs to take a lot of blame and, also, Luongo was very good," said Jarome Iginla, who scored. "We threw a lot at him. They weren't just bad shots. We had a lot of good shots and, unfortunately, we didn't get more by him."
Iginla has four goals and two assists in the last six games and a team-best 89 points, but Olli Jokinen and Michael Cammalleri haven't been producing.
Jokinen had eight goals and two assists in his first six games after he was acquired in a March 4 trade with Phoenix, but has four assists in the past 11. Cammalleri, whose 36 goals lead Iginla by one, has scored two times with nine assists in the last 16 contests.
Iginla and Cammalleri set career highs with five points on Dec. 31 in a 6-4 home win over Edmonton -- the first of two straight victories over the Oilers. The Flames also took a 3-2 shootout win at Rexall on Feb. 21 after dropping the season's first two meetings.
Miikka Kiprusoff has recorded all of Calgary's 45 wins this season, but has suffered through inconsistency in four April starts, giving up four goals in each of two losses and one in each of the last two wins. He has allowed 13 goals in four starts this season against the Oilers.
Edmonton (37-34-9) has been consistent over its last seven games, but not the kind the Oilers wanted. After moving to seventh in the West on March 20 with their third straight win, they have dropped seven of their last nine. A 2-1 loss to lowly Los Angeles on Tuesday night coupled with St. Louis' win over Phoenix eliminated Edmonton from the playoffs for the third consecutive season.
The defeat dropped the Oilers to 1-4-0 on their season high six-game homestand.
"We faltered at the worst possible time of the year," captain Ethan Moreau said. "The last couple weeks we didn't get the results, regardless of how we played."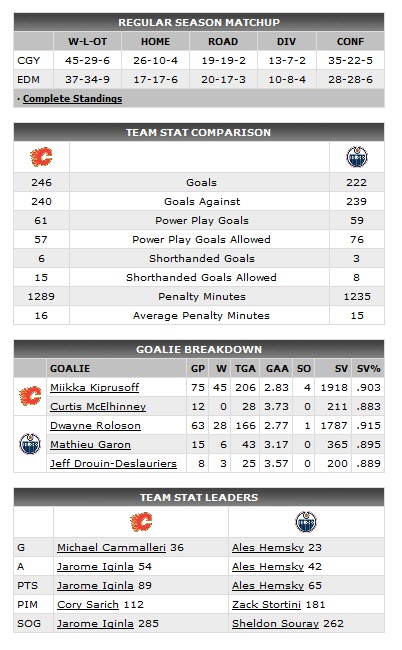 Last edited by davetherave on Fri Apr 10, 2009 3:08 pm; edited 3 times in total